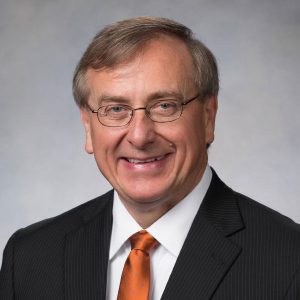 Greetings, students.
As president, I have sometimes described myself as "Gator Dad," which is my lighthearted way of conveying my love and concern for each of you.
It is because of that love and concern that I am hopeful you will turn to U Matter, We Care should the need arise, whether for yourself or someone else.
One of the hardest things in life is to ask for help, yet sometimes the only way forward is to ask. U Matter, We Care eases that step as much as possible. Whatever is troubling or upsetting you, you can get help through this website and through the U Matter, We Care initiative.
You may also hesitate to ask for help for friends, acquaintances or strangers who appear to be in need. You may wonder, "Does this person really want me to get involved?" You may think the matter is better left to an authority.
The truth is that trying to help someone in distress almost always proves to be the right move. U Matter, We Care encourages all Gators to do so by providing the tools for anyone to assist another person.
U Matter, We Care is a great tool to receive, and to extend assistance and compassion, and I hope you will turn to it whenever the need arises to help yourself or another member of our Gator family.
Sincerely,
Kent Fuchs
President
AKA "Gator Dad"